This is probably the first question we ask when faced with an abundance of apps, platforms, quick fixes or even magic devices that claim to be able to make us learn languages in no time.
Before we deal with this overchoice, it might be wiser to ask ourselves How do I learn a language? What are the benefits of learning online for me?
How do we learn a language?
There have been innumerous theories, methods and techniques, but most of them will agree that you should:
imitate and repeat expressions and sentences
practice regularly and constantly
use what you have learned to make your own sentences
get feedback
LPC online courses
Our LPC online and LPC online blended programs are based on our decades-long experience in language teaching following our Learn-Practice-Communicate method, with more than 10.000 users so far.
Under the exceptional circumstances caused by the COVID-19 crisis, they have proved to be the best solution and have already won over many of those previously skeptical about online learning.
In LPC online business language courses you can learn useful expressions that are essential for international business communication.
You can hear the pronunciation, see how these expressions words work in sentences and you can practice by doing various exercises that can be repeated as many times as you need. Each lesson ends with a test to check you progress.
You can review your practice and test answers to identify the parts that require additional exercise.
LPC online blended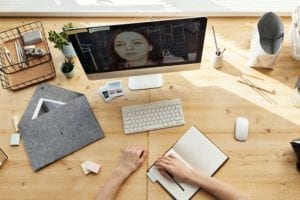 Blended courses combine online lessons and face-to-face classes via Teams, Skype, Zoom, Google Hangouts or similar platforms.
After you complete an LPC online lesson on your own, you meet your teacher for a  conversation session to practice the use of the language covered in the lesson.
Your teacher can provide additional explanation and give you tasks or exercises tailored to your individual needs.
Here is what our users say
Conclusion
The online language course that really works is the one that satisfies at least these requirements:
It is well-structured
It utilizes the advantages of online learning
… and you take it regularly and diligently 😊