Digital technologies have become essential in our everyday and professional life. Lately, it has been accelerating businesses in such a profound way that digitalization became one of the hottest new buzzwords in today's media. Since digital transformation can ruin a budget and requires a certain paradigm shift in business, not to mention that it can be quite time consuming, its real effects on business models are yet to be seen.
But no one can afford to be just a bystander in this process. This type of transformation cannot be avoided or ignored – whether you like it or not, all successful businesses adapt to technological development, not the other way around.
Digital Technologies – Transformation or Disruption of Learning?
The best way to observe the effect of digital technologies on education is to concentrate on key features and objectives of the traditional and online learning experience. Even at first glance, it is evident that these two types of learning share the same objectives: to transfer knowledge and provide the learner with the ability to put that knowledge and skills into practice.
But it is essential to point out that online learning overcomes the drawbacks of traditional learning by giving the learners the ability to, among other things, self-direct and self-pace their learning experience, choose when and where to do it, interact and engage with content enriched with multimedia, and receive feedback on what they've learned.
With that said, digital technologies affect the learning by transforming it, not by disrupting it. They enrich it, bring it to a new level and add value to it.
Corporate Learning or Training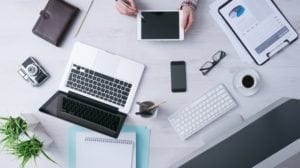 A lot of companies fulfill their need for employee training by investing in training programs for cultivating hard or soft skills. Many of them do so in a traditional way: by organizing lectures, conference, seminars, trainings or workshops.
Depending on the desired outcome, that can be enough, but some of them take the plunge and decide on "innovative" methods of education which, often disguised as e-learning or online learning, basically boil down to virtual classrooms, downloading materials, e-mailing set of PDFs or attending webinars. But the fact of the matter is – that is not e-learning.
Quality e-learning can meet the learners' specific needs and give feedback on the learned content, while providing the organization with the control and oversight of the whole process. Another highly effective training method is blended learning, which provides the best of both worlds by combining classroom training and online lessons.
Such online training that functions as a standalone online or blended training program fits into today's lifestyle and follows the trend of digitalization of education and the overall business processes.
It would be unacceptable in today's world to apply a one-size-fits-all approach in education, without having in mind the learner and the content. So the key question here is: how to implement the right type of education in a specific situation?
When planning and organizing education for corporate training purposes (online training), these questions have to be answered:
What limitations are imposed by the current training structure?
Considering the internal organizational structure of a company and the level of restrictions, provide the participants of online training with the unison prerequisites for engaging with e-learning content.
How will online training help the employees achieve specific goals that are currently out of reach?
Basically, develop a custom made online training based on the organization's needs. By applying the learned content, learners operate with a whole new set of skills for achieving specific tasks or goals that were before out of reach.
What are the employee "skills gaps" and what should be the focus?
Moulding the learning content to align with concrete, real-world scenarios and providing engaged learning experience enables the learners to recognize their "skills gaps". It is done to enable every participant of online training to recognize and implement specific knowledge and skills in their everyday professional situations.
How to define and prioritize training goals?
Online training goals have to be specific, attainable and realistic. Additionally, they should be aligned with the priorities so that the most crucial ones get the most attention.
Many companies don't allocate resources for a standalone content creation, development and implementation of online learning. Therefore, to find the right technology partner and Learning Management System, these are the most valued parameters:
a focus on personalized user experience
a cloud based setup
mobile optimization for self-paced and self-directed learning
content that is useful, enticing, high-quality and rich in multimedia
instant feedback and rich reporting
The most important part of the whole corporate training process is the content itself which combines:
interactivity
storytelling
using real-world context, illustrations and examples
gamification
applying the KISS principle (Keep It Short & Simple)
Successful online learning grabs the attention of learners, keeps them involved and invested in the training process and is personalized to achieve customer intimacy, greater retention and application later on, which could be beneficial for ROI of the organization which has invested in its employees.
Conclusion
The clash of traditional learning and modern digital technologies doesn't need to have a tragic outcome. On the contrary, those who have recognized the potential for implementing and adopting new technologies in corporate training initiatives already reap the benefits of such endeavour and don't second-guess their decision.
The heart of good education is in the content that is up-to-date and in sync with the one who is using it. The purpose of digital transformation in learning with learners at its core is to give them much needed, useful and applicable knowledge, and equip them to be more valuable to their organization.